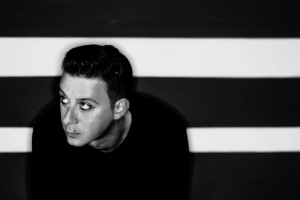 Andrea Senatore aka Andersenn is a composer, a multi-instrumentalist, a performer and a singer. A musician involved in art in different ways from sound experimentation to multimedial research.
In 2006 he founded Scientist&Cynic, an electro/pop project. The duo made their debut in 2007 with the album "Primatoid". The song Far From Me, written by Andrea, was included in the compilation "Soundsation" released in collaboration with Sony/BMG, meanwhile the song The Quiet Gnome was used by Los Angeles label Stroboscopic Records and from the net-label Muertepop. The song Far From Me also won the topnotch competition Demo Rai and consequently the track was aired for one year on Rai Radio Uno.
In 2008 he released "Fractal" (Recycle Records).
In 2010 he obtained a diploma in "Music applied to new technologies" at the conservatory "N.Piccinni" in Bari.
In 2011 he released the Ep "4 Types of Me"(Miraloop Records) and the remixes "Chicago"(Recycle Records), "Thrills"(Miraloop Records) and "Falling"(Miraloop Records). In that same year he also composed the soundtrack of the video "Pompei città da scoprire" which has been selected to represent the city of Pompeii @ BIT (International tourism exchange) 2011 in Milan.
He released Polar and Oresund (Recycle Records): the first two parts of a trilogy dedicated to Scandinavia.
In 2012 he released the album "De/Nucleo" (Minus Habens Records)which is the result of his collaboration with the cellist/composer Giovanni Sollima: "The Jimi Hendrix of the cello" (Justin Davidson, Pulitzer Price for Criticism 2002). De/Nucleo was a work praised by the critics and the public on the national and international music scene.["Charming and original sound" (Rockerilla) / "Sweet and powerful album" (Rumore) / "Absolute pleasure" (Il Manifesto)]
He arranged and played electronics on Radiodervish (one of the most important Italian "world-music" bands) new album "Human" released on 2013 by Sony Music. He joined the "Human" showcase in Catania with the Italian superstar  Franco Battiato.
In 2013 he joined "La Notte della Taranta", Italy's biggest music festival and one of Europe's most important events dedicated to traditional culture. He arranged and played the electronic inserts at the final concert in Melpignano: a great event with an audience of more than 100.000 people.
In 2014 he released Vulkan, an album with a strong cosmopolitan feel which distinguishes itself for electronic compositions with many influences from the different regions of the world.
[ "Pure delight" (Rockerilla) / "Half an hour of eclectic and enjoyable electronic music" (Blow up) / "Vulkan, music beyond the clouds" (La Repubblica Xl)]
The "Vulkan" live show is a unique mix of adrenaline and musicality, consisting of an ensemble of electronic music, with experimental, cinematic and chillwave influences. It is also sustained by a significant visual support through 3D video-mapping projections.
Links: | andreasenatore.com | Facebook | Resident Advisor |