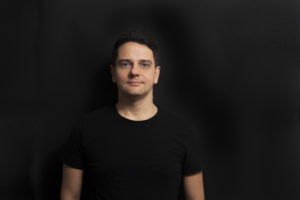 Guido Nemola: Live Set – DJ Set
Guido Nemola è un DJ e produttore Sud italiano responsabile di aver vissuto, rimanendone positivamente influenzato, due epoche di musica sin dagli inizi degli anni Novanta.
Cresciuto a Lecce in una famiglia di musicisti, Nemola si esibisce in pubblico come DJ per la prima volta nel 1991, e dal 1997 in poi si affaccia alla produzione.
I singoli pubblicati su Pastaboys Records e Manocalda ricevono il supporto di DJs leggendari, come Danny Rampling, Little Louie Vega, François Kevorkian, David Mancuso e tanti altri, i quali hanno suonato la sua musica in tutto il mondo.
La traccia House 'Praise God', rilasciata nel 2001 su Manocalda sotto il suo alias 'A'Merika Vera', è un classico riproposto ancora oggi da Morales, Humphries e Vega; nel 2006 ha pubblicato, insieme a Dario Lotti, sulla storica label inglese Junior Boy's Own, che ha accolto artisti come The Chemical Brothers, Underworld ed XPress2; senza menzionare le collaborazioni, meno recenti, con altre ottime piattafome come LaTerra, Italobusiness, ReVox, Ocean Dark, Monique Musique, Secouer, ed i remix ad artisti come Micheal Watford, Johnny Dangerous, First Choice ed Audiofly.
Nemola ha preso parte a progetti artisticamente variegati, insieme a artisti appartenenti a correnti musicali ben distinte: dal 2007 ad oggi ha dato vita nuovi progetti discografici, grazie ai quali si è guadagnato la notorietà nelle branche Techno, House e Jazz: Recycle Records, Joyfull Family, Coffee Pot e DN3.
La label Recycle Records è stata fondata da Nemola e Santorini con l'intento di celebrare le sonorità Chicago e Detroit che Nemola stesso visse mentre sbocciavano, con sonorità dub, minimal e deep. La label ha ospitato artisti come iO (Mulen), Dapayk, Julian Perez, Simoncino, Bolumar, Jun Akimoto, Ittetsu e tanti altri. Gli ultimi dischi in vinile, white label ed hand-stamped, sono distribuiti in edizione limitata da deejay.de.
Il progetto House "Joyfull Family", con Cristian Carpentieri e Chico Perulli ha ripreso vita negli ultimi anni dopo una pausa di anni. Il trio ha pubblicato un crescendo di release su i!Records, D-Floor Records (label of Pirupa, Leon and Nice7), Sole Channel Music, Good for You Records, Nervous, Hudd Traxx, King Street Sound, Wound Music, Jaww e Sneaky, raggiungendo la top 10 Deep House e Soulful chart di Traxsource.
"Coffee Pot" è un duo fondato con l'amico Limo (Transition LAB, Fachwerk): si traduce nell'associazione tra un'amicizia di vecchia data, la conoscenza nell'uso delle macchine e le innumerevoli ore trascorse in studio.
Coffee Pot è anche una white label Vinyl only, stampata a mano e supportata in tutta Europa dai più grandi DJs.
Trasversale al contesto club, "DN3" è l'alchimia tra tre personalità d'esperienza del Salento in un trio Jazz con ibride contaminazioni di musica elettronica moderna, formato da Cesare Dell'Anna e Mauro Tre rispettivamente alla tromba e tastiere e Nemola a curare le ritmiche e gli arrangiamenti – un Jazz arieggiato e dinamico che alterna influenze Techno e Chicago House.
ENGLISH:
Born in the south of Italy in 1973, Guido Nemola has been a DJ since 1991 and a producer since 1997.
When he moved to Milan in the '90s, he started working for epoch-making nightclubs: Plastic, Magazzini Generali, Old Fashion, Atlantique and Beaugeste, among others, never compromising his musical selection and always following his taste.
In 1997 he published his first single and began collaborating with Pastaboys. As a producer he has got important successes in United States, England, Japan and Germany; he was on the verge of the Danny Rampling chart (BBC Radio 1) and on ItaliaNetwork's chart "Suburbia".
His productions have been played by the best world DJs, starting with Little Louie Vega, Kiko Navarro, Eddie Amador, DJ Gregory, XPress2, David Coleman, François Kevorkian, Marques Wyatt, the legendary David Mancuso, and even Ralf, Alex Neri, PastaBoys and even more.
Beyond his own works, he collaborated to the project "Jack in The City" and with the "Joyfull Family" Crew. He produced "C'Mon" with Stefano Noferini and published various singles on the labels King Street, Irma, Junior Boy's Own, LaTerra, Italobusiness, ReVox, Ocean Dark, Monique Musique, Joyfull Family, Secouer.
He has remixed artists like First Choice (Love and Happiness), Dajae (Brighter Days), Micheal Watford (You Got It – Spectrum UK), Johnny Dangerous (I Beat That Bitch – King Street USA), and Audiofly (Inside The Beat, Revox).
In 2010 he published the first single with his electronic jazz band DN3.
Since 2008 he works with Limo to the project Coffee Pot.
He has played in the coolest clubs of Salento (Torre Regina Giovanna, Mediterraneo, Living, Vertigo, Smeraldo, Casablanca, Guendalina), in Switzerland (DClub, LaRuche, Amnesia, Diams Club), in Spain (Oven Club, Oi Club)
He runs the labels "Recycle Records" and "Recycle Limited" with Santorini, releasing deep and minimal house.
Discography
1997 Nemo Bros – The Universe (White Label) 12″
1998 Nemo Bros feat. Uovo – Body & Soul (Acetate) 10″
2000 House of History – Welcome (Manocalda) 12″
2000 Ferrari Blues – Everything is gonna be alright (PastaBoys) 12″
2000 Jack in the City – Jupiter (NoLabel Records) 12″
2000 Dirk Digs – All Up TEST 011 Disco Inn) 12″
2001 A'Merika Vera – Praise God (Manocalda) 12″
2001 Jack in the city – Juwaka (NoLabel Records) 12″
2001 Memory Man – This Shit is Real! (Manocalda) 12″
2002 Nemola – Sex on the beach NEW TEST 03 (Disco Inn) 12″
2002 La Conca – Brasiu, House 'N' Bossa EP (IRMA) 12″
2003 Tax Free – JITC Remixes (11-8) CD
2005 Joyfull Family – Da Breaker (ReVox) 12″
2005 Jack in the city – JW (Loudbit) 12″
2005 The Old School Preachers – Say Alleluia (Le Club) 12″
2005 Joyfull Family – Back Into Time (ReVox) 12″
2006 Dario Lotti & Guido Nemola – Jack in The City (JBO UK) 12″
2006 Guido Nemola & Wendy Lewis – Illumination (DPulse America) 12″
2006 Broken Toys – Good & Evil E.P. Vol. 1 (Ocean Dark) 12″
2006 Joyfull Family – Life Is Music / I Do What I Like (ReWind) 12″
2006 Tarantavirus – Lu_Ragno Impoverito (LA TERRA ITA) 12″
2006 Guido Nemola – La Smorfia / Bass (Italobusiness ITA) digital
2006 A'Merika Vera – The Stars (4bit UK) digital
2007 Joyfull Family – Pop Corn (RE-VOX 085) 12″
2007 Cristian Carpentieri & Guido Nemola – Greetings From Rio (RE-VOX) 12″
2007 Guido Nemola – Verde Matematico (Recycle) digital
2007 Guido Nemola – Bananas / I love Detroit (RE-VOX) 12″
2008 Jack in The City – Work That Body / I Got It (Recycle) digital
2008 Coffee Pot – Minorettes (Recycle) digital
2008 Guido Nemola – Super Groovy (Italobusiness ITA) digital
2008 Guido Nemola – Da Nu Era Vol 1 (Recycle) digital
2008 Jack in The City – I'm Fine (Recycle) digtal
2008 Stefano Testa VS Jack In The City – Senorita EP (Ocean Dark) 12″
2008 Guido Nemola – Frottole (Italobusiness ITA) digital
2008 Guido Nemola – Cateto (Recycle) digital
2008 JITC vs Limo – Rabbit (Recycle) digital
2009 Guido Nemola – Chicago (Recycle) digital
2009 Jack in The City – Jet (Ocean Dark) digital
2009 Guido Nemola – African Grooves (Joyfull Family Records) 12″
2009 Guido Nemola & Loaded – De Bailar (Recline) 12″
2009 Guido Nemola – Roots (Recycle) 12″
2009 Guido Nemola – Mas Groove (Monique Musique) digital
2009 Guido Nemola & Santorini – Work (Recycle) digital
2010 Guido Nemola & Loaded – De Bailar 2010 (RE-VOX) 12″
2010 Guido Nemola – To Groove Ep (Recycle) digital
2010 Guido Nemola – I Need You (Elegant Bit) digital
2010 Guido Nemola – Amarì (Joyfull Family Records) 12″
2010 Guido Nemola – Gorgeous (Recycle) digital
2010 DN3 – Perfect Toy (Secouer Rec) 12″
2010 Guido Nemola – Freakin (Recycle) digital
2010 Guido Nemola – Freak&Chic (Recycle) digital
2011 Guido Nemola – Insomnia (Secouer Rec) digital
2011 Guido Nemola – A World (RE-VOX) 12″
2011 Guido Nemola – Insane EP (Abstract Theory) digital
2011 Guido Nemola – House (Joyfull Family Records) digital
2011 Guido Nemola – Desire (Recycle) digital
2011 Guido Nemola – Chicago (Recycle) digital
2011 Guido Nemola – Summer Of 2006 (Re-Vox) digital
2011 Guido Nemola – Get Down (Datagroove) digital
2011 Guido Nemola – Joy (Recycle) digital
2012 Coffee Pot – Nave (Abstract Theory) digital
2012 Guido Nemola – Feelings EP (The Flame) digital
2012 Guido Nemola – Voyager (Recline Music) digital
2012 Guido Nemola – I Love Detroit 2012 (Re-Vox) digital
2012 Guido Nemola – Sun Samba (Joyfull Family) digital
2012 Guido Nemola – Jazz Piano EP (Re-Vox) digital
2012 Guido Nemola – Cattive Compagnie (Recycle Limited) digital
2012 Guido Nemola – Southgate EP (Kunst Music) digital
2012 Guido Nemola – Voyager (Recline Music) digital
2012 A'merika Vera – Winter Madness (Recycle Records) digital
2013 DN3 – And (Irma Records) CD
2013 We Are In This Together – Universe (Joyfull Family) digital
2013 Guido Nemola – That's Right (Recline Music) digital
2013 Coffee Pot – Solchi (Abstract Theory) digital
2013 Guido Nemola – Blaze (Irma Records) CD
2013 Guido Nemola – How Deep (Gimmick Records) digital
2013 Guido Nemola – Grandine EP (Phobic Records) digital
2013 Guido Nemola – The Storm (Recycle Records) 12″
2013 Guido Nemola – Detroit Or Not (Italobusiness) digital
2013 Guido Nemola – More & More (Recycle Records) digital
2013 Guido Nemola – Waiting (Recycle Records) digital
2013 95 RGT – Ain't Got No (Gimmick Records) digital
2014 Coffee Pot 001 (Coffee Pot) 12″
2014 Guido Nemola – Syntesis (GOS Music Studio) 12″
2014 95 RGT – Crime Room (Crime Records) 12″
2014 Guido Nemola – Deep String (Abstract Theory) digital
2014 Guido Nemola – Bright Star (Recycle Records) digital
2015 Guido Nemola – Sunday (Transition Lab Recordings) 12″
2015 Guido Nemola – To My Friends (Supervision Records) 12″
2015 Coffee Pot 002 (Coffee Pot) 12″
2015 DN3 – Rejazzed (Irma Records) digital
2015 Guido Nemola & Chico Perulli – Aria (Recycle Limited) digital
2015 Joyfull Family – Decay (D-FLOOR MUSIC) digital
2015 Joyfull Family – Higher (i! Records) digital
2015 Joyfull Family – Wish (Piston Recordings) digital
2015 Joyfull Family – Don't Leave Me (i! Records) digital
2015 Joyfull Family Feat. Mike Anderson – Arrange Me (Disciplina) 12″
2016 Coffee Pot 003 (Coffee Pot) 12″
2016 Guido Nemola & Chico Perulli – Ombra (Recycle Records) digital
2016 Guido Nemola – Give It To Me (Supervision Recordings) digital
2016 Guido Nemola – Bloom (Cervidae Recordings) digital
2016 Guido Nemola – Waiting (7d7 Compilation, Recycle Records) CD
2016 Joyfull Family – Warehouse EP (Sole Channel Music) digital
2016 Joyfull Family – Jesus Still Loves The Acid EP (Street King) digital
2016 Joyfull Family – Interstellar EP (Sneaky Music) digital
2016 Joyfull Family – Sunshine (i! Records) digital
2016 Joyfull Family – The Acid Lab (SK Recordings) digital
2016 Joyfull Family – Funk It Out (Springbok Recordings) digital
2016 Joyfull Family – Deep Roots (Double Cheese Records) digital
2016 Joyfull Family – Feel The Power (Seta Label) digital
2016 Joyfull Family – Feel Your Soul / City Streets / Keys (Nurvous Records) digital
2016 Joyfull Family – Music (i! Records) digital
2016 Joyfull Family – Joyfull Family EP (Good For You Records) digital
2016 Alex Kennon Vs Joyfull Family – The Party Is Over (Yaww Limited) 12″
2016 Joyfull Family – I'm Gonna Love It (GN Retro Mix) (Hudd Traxx) digital
2017 Guido Nemola – Meter (Recycle Records) 12″
2017 Coffee Pot – Nuevaera (Coffee Pot) 12″
2017 Guido Nemola & Chico Perulli – Ombra remix (Recycle Records) digital
2017 Jazz Reason – Street Visions (Irma Records) digital
2017 DN3 – Silence (Ltd, W/Lbl) 12″
2017 Joyfull Family – MicroDetroit (S6A) digital
2017 Joyfull Family – Mediterraneo (Piston Recordings) digital
2017 Joyfull Family – Keep On Dubbin' (Piston Recordings) digital
2017 Joyfull Family feat.Vanity – I Feel Alive (S6A) digital
2017 Joyfull Family – I Know Where God Is (S6A) digital
2017 Joyfull Family – Check It Out (i! Records) digital
2017 Joyfull Family & Freaky Idols – Goin' Up (Piston Recordings) digital
2017 Joyfull Family feat.Vanity – If I Let You Go (Manyoma Records) digital
2017 Joyfull Family – Bird Talk (Manyoma Records) digital
2017 Joyfull Family – Dreamer (Manyoma Records) digital
2017 Joyfull Family – I Love The Way (Manyoma Records) digital
2017 Joyfull Family, Mike Anderson – Real Name (Unclear) digital
2017 Joyfull Family – All Right / Kahba (Frigo Vide Records) digital
2017 VVAA – The Jazz House Indipendent (Irma CasaDiPrimordine) ;CD
2018 DN3 – Lee Theme (Jazz-O-Tech) 12″
2018 Guido Nemola – Need Your Body (Pure Groove's Recordings) digital
2018 Joyfull Family – DiGusto (i! Records) digital
2018 Joyfull Family – Make It (S6A) digital
2018 Joyfull Family – Gipsy Boy (S6A) digital
2018 Coffee Pot feat.Mike Anderson – Choose Your Chair (Rever Limited) 12″
2019 DN3 – Modal Miles (Jazz-O-Tech) 12″
2019 Guido Nemola – Blue EP (Affinity Lab Records) digital
Remixes:
1999 Superstar Deejay – Disco is Back (Rmx) (Oxyd)
1999 Superstar Deejay – Disco is Back (Rmx) (Intonation)
1999 Mr Spring – Blaxxtraxx 3 – Funky Nassau (White)
2000 First Choice – Love and Happiness (Nemola Rmx) (Vocal Bizz)
2002 Michael Watford – You Got it (JITC Rmx) (SPECTRUM UK)
2002 Banda Favelas – Jungle Minas (Guido Nemola Rmx) (IRMA US)
2003 Santorini & Loaded – Mucetha (Nemola Rmx) (STREETVIBES)
2003 Tax Free – Core (11-8)
2004 Santorini & Loaded – Mucetha (Nemola Rmx) (SOUL CANDI)
2004 Tax Free – Turn The Music Up (JITC Rmx) (Star Garda)
2005 Noferini vs. Andy F. – Body Shine (Remix) (Loudbit)
2005 Noferini Feat. Jack in the city – C'Mon (Dee-P-erfect)
2005 Dajae – Brighter Days (Joyfull Family Rmx) (Ocean Trax)
2005 Giorgia B – Freak Music (Joyfull Family Rmx) (Dee-P-erfect)
2006 Dj Santorini + Jack In The City – What You Mean (LoudBit)
2006 Noferini Feat. Jack in the City – C'Mon (Kingdom Kome Cuts)
2006 Loaded – Unusual Sighs EP (Remixes) (DPulse America)
2006 Opa Cupa – Hotel Albania Remixes CD (11-8)
2006 Tarantavirus – Lu_Ragno Impoverito CD (11-8)
2006 Mowree – Play My Song (Joyfull Family) (Reckless)
2006 Cristian Carpentieri – Easy Trax (Nemola Remix) (NoLabel)
2007 Sine – Stars (Jack in The City Remix) (Presslab Records)
2007 Looseheadz – The Party (Guido Nemola Remix) (Stereo Seven)
2007 Loaded – Denied (Jack in The City Remix) (Fahrenheit)
2007 Limo – Minimal Space (Nemola Remix) (Logical Musik)
2007 DJ Santorini – Think At (One Eyed Fish)
2007 Chico Perulli & Santorini – Messapia (Vintage)
2007 Si.Ms – Deep in You (The Flame)
2007 Santorini – Baroque (Recycle)
2007 Si.Ms – Cancer (The Flame)
2007 Loaded – Dulcamara (Recycle)
2007 Submantra – Energy (Nasco Disco)
2008 Luca Ferrari – Tu Mi Vedi (Logical Musik)
2008 Mario Più, Catalani, Maura – Cantada (Coffee Pot) (Uomo)
2008 Santorini – Ipotenusa (Recycle)
2008 Flush Duo – Bass Reflex (Recycle)
2008 David Durango – Icaro (Recycle)
2008 Johnny Dangerous – I Beat That Bitch 2008 (King Street)
2008 David Durango – Short Swing (Dingo Remix) (Recycle)
2008 Luca Ferrari – Il Futuro (Recycle)
2008 Cristian Carpentieri – Africa (Recycle)
2008 Neurophonia – Analogic Analogies (Metamorphosis)
2008 Roman S – Go (Elektrosila)
2008 Scientist & Cynic – Neural Train (Recycle)
2008 Giuliani & Rossetti – Master Touch (Substudio)
2008 Ramon Lorenzo – So So (Recycle)
2008 To Be Different – Imbuto (Recycle)
2008 DJ Umbi – Sonidos (Irma)
2009 Aaron Tesser & The New Jazz Affair – Everlasting Rose (Irma)
2009 Luca Torre – Love in You (Recycle)
2009 Dani Casarano & Felipe Valenzuela – Ola Polar (Recycle)
2009 Aaron Tesser – Stella (Irma)
2009 F.Bonora & M. Matteini – Things Happen (Recycle)
2010 Saccobros – Remember Afterqwality (Elegant Bit)
2010 Papyk – Staying for Good (Irma)
2010 Yvan Genkins – Disco Brass (Nemola & Santorini Rmx) (Recycle)
2010 Nicola Martorano – Time (Elegant Bit)
2010 Roman S – It's Midnight Now (Elektrosila)
2010 Keemani – Klama (D:Vision)
2010 Nick Detti – I Do It Good (Recline)
2010 Big Mojo – Don't Cry For Me (Irma)
2011 Pepper – For Breakfast (ElegantBit)
2011 BenBen – Khoo (Recycle)
2011 DJ Filix & Paolo Driver – In Correct (Joyfull Family Records)
2011 Luciano Esse – On Air (Recycle)
2011 Mark Graham – To The Core (Recycle)
2011 Iori Wakasa – Calm (Frabon Recordings)
2011 Björn Spielmann – Sappho (Laumm)
2011 Tausend – Public Enemy (Reload)
2011 Kornel Lemon – Oldbox (Recline)
2011 Manuel De Lorenzi – Amar E Viver (Recycle Records)
2011 Nino – Barracuda (Re-Vox)
2011 Albert Marzinotto – Something is going to Happen (Joyfull Family Records)
2011 Limo feat NicoNote – Party Girl (Recycle Limited)
2011 Rush? – Kick It (Joyfull Family Records)
2011 Audiofly feat Shaun Parkes – Inside The Beat (Re-Vox)
2011 Standard Fair – Take In (TheSounds)
2011 Ivano Coppola – Mastermind (Re-Vox)
2011 Alex Magno – 303 Anomaly (Etichetta Nera)
2012 Sugarpie & The Candymen – Tell Me Boy (Irma Records)
2012 Angel Mora & Frink – Gandulf (Gimmick Records)
2012 Big Mojo – Back Where I Belong (Irma Records)
2012 Yvan Genkins – I Funk You (Recycle Records)
2012 Dandi & Ugo – La Balkanata (Italo Business)
2012 Raffaele Vasquez – Ma Che Giornata (Goodfellas)
2012 Refresh (Italy) – Besides the Thoughts (Keep On)
2012 Felix Fossil – Deep Swing (A'Merika Vera Remix) (Recycle Records)
2012 Diego Infanzon – Rastaman (Pild Records)
2012 Hyde & Sick – No Siemplo (Waldliebe Records)
2013 Chronophone – Voce De Sa Trincha (Nite Grooves)
2013 Kaiserbeat – Watching The Street (Recycle Records)
2013 Bolumar – Watching Around (95 RGT Remix) (Recycle Records)
2013 Dodi Palese – Hun Kal (Engrave Limited) 12″
2013 Fideles – Professional Kissing (95 Rgt Remix) (Recycle Records)
2013 Calma – Tempura (Coffee Pot Remix) (Recycle Records)
2013 Salva Stigler – Life Goes On (Recycle Records)
2013 Bjorn Spielmann – Sappho (Guido Nemola Remix) (Dushe)
2013 Agostino Maria Ticino – At the Garden in a Winter Sunday (Guido Nemola Remix) (Irma Records)
2014 Those Boys Ft Mr Lee – Proud & Free (DN3 Remix) (Do It Now)
2014 Salva Stigler – Page (Guido Nemola Remix) (Natural Rhythm)
2014 Angelo Mele – Standard (95 RGT Remix) (Recycle Records)
2014 Moving Cities, Angel Mora – Bring It Down (Guido Nemola Classic Remix) (Recycle Records)
2014 Garance – Abasourda (Guido Nemola Remix) (Recycle Records)
2015 Phil Colors- Middle (Guido Nemola Remix) (Dushe)
2015 Domenico Donvito – Save The Date (Chico Perulli & Guido Nemola Dub Mix) (eMBi Music)
2015 Ely Bruna – Found Love (Joyfull Family Remixes) (Irma Records)
2015 Mario Da Ragnio – Lonely Egg (Guido Nemola Remix) (Hangover)
2016 A.d.M.a., Depandis – Brotherhood (Joyfull Family Remix) (Recycle Records)
2016 Sun Crush – Mindbender (Joyfull Family Get Down Remix) (i!Records)
2016 Queemose – Haiku (Guido Nemola Remix) (Recycle Records)
2016 Opias – Unexplored (Guido Nemola Remix) (Habla Music Limited)
2016 A.d.M.a. – Alphaphone (Guido Nemola Remix) (Radycal)
2016 G-Prod Featuring Mike Anderson – Take Us To The Heavens (Guido Nemola Remix) (Bakroom)
2016 Mark Graham – 09.601 (Coffee Pot Remix) (Recycle Records)
2016 AFXS – Killer (Guido Nemola Dub Mix) (Recycle Limited)
2016 Public Invasion Project – Celebrate Your Life (Joyfull Family Underground Disco Remix) (Irma Records)
2017 Maertz – Train To Kreuzberg (Guido Nemola & Max Rosardo Remix) (Recycle Records)
2017 Luca Ferrari – Summer's Gone (Guido Nemola Minimal Jazz Remix) (Recycle Records)
2017 Herr Spiegelhauer – Waiting Room (Guido Nemola Remix) (Arneo Foundation)
2017 Eddy Romero – Micro Pork (Guido Nemola MNML Soul Remix) (Recycle Records)
2018 Cesare Dell'Anna – Modal Miles (DN3 Remix) (Jazz-O-Tech)
2019 Moog7777 – Microlast (Guido Nemola Edit) (Recycle Records)
Links: | Facebook | Twitter | Beatport |Resident Advisor| Discogs |
The Jazz Project DN3: | Facebook | Website |
Info booking: booking@recycle-records.com