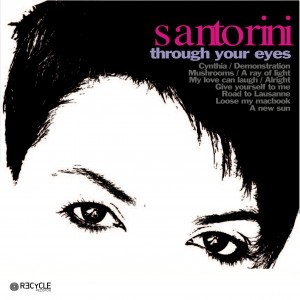 After several EP releases, Andrea Santoro aka Santorini decided to gather his best works on this Audio CD.
Musically, "Through your eyes" unites his dance floor-sensibility with his long-standing fascination with deep and warm athmospheres.
This album is born from the necessity to collect the sounds of the last 3 years.
With this cd Santorini makes a journey in house music ranging over different sound shapes, from the old-school flavoured "Give yourself to me" to the minimal approach of "A new sun".
Dedicated to his girlfriend "Through your eyes" is an album in which love wins! The theme is sexy-romantic and all the tracks are made to be played on each different dancefloor or on the other hand to be listened on your iPod as well!
This Album has been published under IRMA Records Catalogue, you can buy the CD here
Album " Santorini – Through your eyes " by recycle
First reactions:
GEL ABRIL: some really ones to choose from tnx
SHLOMI ABER: great stuff ..
DANIEL SANCHEZ: Superb debut album! thanx 10/10
MARK GRAHAM: Great work.. full support!
CHAIM: nice tracks thx
SATOSHI TOMIIE: thank you.
FABRIZIO MAURIZI: Santorini never fails!! Great music as usual ;-))
DUBFIRE: Downloading for Dubfire. Thanks
JULIEN CHAPTAL: Gimme some of them Mushrooms!
LIMO: 7 tracce di mio gusto su 10 … grande Santorini, Full support !!!
TRIPMASTAZ: Give Yourself To Me 4 me
EKKOHAUS: Cynthia, Demonstration, a new Sun, Ray of Light and Lose my Mac, really good grooves….thanx…ekko
DE BUG: review to follow
KIKO MARTINEZ: nice stuff!!! great music!!!
ZOE XENIA: Excellent, full support!
COSMIC COWBOYS: Always great job from Santorini. My love can laugh it's really hypnotic.
LUCIANO: Thanks for the music, I appreciate but will take time to listen to it and send you a feedback asap. L
SOUL MINORITY: Lose my Mac is nice !! will play…
RESIDENT ADVISOR: Thanks, downloading.
RICHIE HAWTIN: download for r hawtin
HERMANEZ: nice musik!
ECHONOMIST: nice grooves!
DJ FORUM MAGAZINE: very cool deep/tech sound! 7/10
LUCIANO ESSE: I like Mushrooms!
JUN AKIMOTO: i fev is Mashrooms! will play out for sure!!
DZETA N' BASILE: Ray of Light of favorite of all. Thx
JAFFA SURFA: nice stuff here, will try out!
HUGO: good stuff
TIM XAVIER: excellent!!!
PACO OSUNA: download thank you 🙂
UGLH: Really good work. Great ep. Thanks
SLAM: nice album – will play a few of these – thanx
MIHAI POPOVICIU: good production skills and some nice grooves here!
FRANCESCO BONORA: A ray of light and lose my mac are better then a blowjob from a pornstar. Super Santorini, hands up. will play, chart
SOMEONE ELSE: This album is awesome!  great great great!  🙂
SEBASTIAN ROYA: Full Support for this, i love the Santorini sound!!! thanks
FABIO GIANNELLI: Very nice album! i love "A new sun", good trip
NICE 7: Recycle always on top! Will Chart and play!!
ARADO: Support like always
FRANCK ROGER: Nice one will check it more further this week
DANI CASARANO: Full support awesome album
DARIO LOTTI: Nice one..Yust played Give yourself to me..
CARLO LIO: support! proper
PHILIPP WOLGAST: Each and every track is outstanding in my ears. What a nice journey. I love it.. Santorini rules. Unbelievably good, this Santorini Album..
BASTIAN SCHUSTER: Really good LP…full support for this release.
DACHSHUND : full support,nice and groovy tracks,will play it!