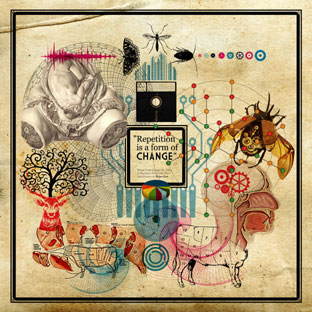 Welcome to the new 'Recycle Limited' label, Launched to explore the deeper and darker side of house music.
The first release is from Swiss artist, Volta.
Having first been drawn to music at the tender age of 7, tempted by the lure of his elder brother's Dj equipment and synthesizers, Volta has since gone on to become one of the most respected industry figures in his home country.
At 16 he was gracing Ibiza decks alongside Alfredo and soon after exploded onto the Swiss scene, playing alongside many of the worlds biggest names. 2003 saw him open the VR Records shop in Lausanne and found R-Productions, an event agency that continues to organize big electronic events in Switzerland. The same year saw Volta set up his very own DJ School, where he teaches not only the techniques of mixing, but also computer assisted music.
Recently he has been pursuing his own sounds in the studio. Some of which, his collaborations with fellow Swiss artist Salvatore Freda, have been snapped up for release by such respected labels as Liebe*Detail, Music Man and Remote Area.
Today however Volta flies solo, and in the finest of fashions on 'Uncharted'. A deep, percussive, mystical feel envelops the listener as the tribal drums pound, the bassline evolves and the melody carries us to another place.
Volta "Uncharted" (Original Mix)
Audio clip: é necessario Adobe Flash Player (versione 9 o superiore) per riprodurre questa traccia audio. Scarica qui l'ultima versione. Devi inoltre avere attivato il JavaScript nel tuo browser.
Our Italian friends call on two of their talent young countryman to provide the remixes. UES fresh from his work with All Inn Records and Inmotion Music delivers yet another nod to the classic sound of house with his bass heavy remix, which manages to catch the very last rays of the summer in its vibe.
Volta "Uncharted" (Ues Remix)
Audio clip: é necessario Adobe Flash Player (versione 9 o superiore) per riprodurre questa traccia audio. Scarica qui l'ultima versione. Devi inoltre avere attivato il JavaScript nel tuo browser.
Closing the release is District Raw boss Fabio Giannelli, who turns in the aptly titled 'Freaky Remix'. Keeping the original's air of mystique, and playing heavily on its rotund bassline, the rolls along in a somewhat lazy but highly effective manner. Watch out for the marauding vampire bats!
Volta "Uncharted" (Fabio Giannelli Freaky Remix)
Audio clip: é necessario Adobe Flash Player (versione 9 o superiore) per riprodurre questa traccia audio. Scarica qui l'ultima versione. Devi inoltre avere attivato il JavaScript nel tuo browser.
DJ FEEDBACK….
Alex Niggemann – "UES Remix for me.."
Andrew Grant – (DC-10/Barraca) – "All mixes are ace."
David K – "Cool release, will try Uncharted."
Oxia – "I like all tracks, for sure I'll play."
Alex Picone – "I prefer UES remix."
Nick Curly – "Support for the Original Mix!"
Layo – "Liking the original and mixes."
Jose Maria Ramon – (Ibiza Global Radio) – "What a beautiful music!!! Original is supreme and deep full support from Ibiza Global Radio."
Karlos Sense – (Ibiza Sonica) – "Full support in Ibiza. I like Uncharted Original."
Chris Ç – (Dinamo.FM / Acik Radio Istanbul) – "Cool remix from Giannelli. Will play all three possibly but as I said, Fabio has done it for me…"
Ibiza-voice.com – "To be reviewed."
Julien Chaptal – "Really like the original track!"
Diesel – (X-Press 2) – "Like this! Will support."
Feygin – "Very nice release.. love fabio's mix the most.. slow and groovy."
Rocky – (X-Press 2) – "Nice variation between the mixes. Really like Fabio's one."
AFFKT – "UES Remix is great ep!"
Anja Schneider – "Uncharted original sounds interesting. Gonna check it."
Jose de Divina – "The original for me, good track, I play it."
AFFKT – "Great EP!!"
Chris Tietjen – (Cocoon) – "Super remix from UES!!"
Arnaud Le Texier – "Fabio's remix for me."
Pirupa – "Groovy remix by UES! Will try out!"
Greg D – (Fishgodeep.com) – "Like the Fabio remix will give it a spin."
Club Madnezz Holland – "Original Mix..nice deep stuff."
Supported by Claudio Coccoluto
Roual Galloway – (Faith Fanzine/Radio) – "Uncharted slo mo funked sizzler."
Kiko Martínez – (DocePulgadas RadioShow) – "Nice tracks…great bass sounds!!!"
Diversions – (CHRY 105.5FM Toronto, Canada) – "UES remix!"
Makossa – (Radio fm4 / Vienna) – "Original Mix is nice."
Scan Mode – (ClubbingSpain/DJMag Spain) – "UES Remix is a bomb! Full support!"
Russ – (i-DJ Magazine) – "UES Remix..Nice deep vibes."
Tsugi Magazine France – "Original Mix is pretty coool."
Distribution: ELECTRONIX NETWORK DISTRIBUTION
Buy the Vinyl | Discopiù | Frequenze | Wordandsound | GoodyMusic | Juno | Nika | Decks | Juno | Deejay.de | Disco View |
Now On Beatport with unreleased remixes by Pepper & Roberto Clementi!