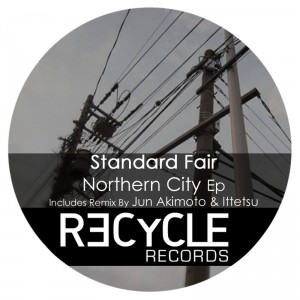 Cat n.    REC096
Artist:    Standard Fair
Title:    Northern City Ep
Genre:    Tech House / Deep House / Minimal
Release date:        02.12.2011
Beatport Exclusive:    2 Weeks
Tracklist:
1 Standard Fair – Winter Flavor
2 Standard Fair – In Front Of Wall
3 Standard Fair – Northern City
4 Standard Fair – Northern City (Jun Akimoto & Ittetsu Remix)
Standart Fair – Nothern City ep by recycle
About Standard Fair:
Standard Fair was born in 1980 in Sapporo, Japan. He played the bass in a punk band until he was 20, weekends were regularly spent in clubs such as Precious Hall.  He has been making tracks and DJing since 2000.
He produces elegant and sophisticated deep house, releasing tracks on Resopal, Little Helpers and many other labels.
Feedbacks:
Alland Byallo
I like Winter Flavor and the remix. Really nice.
Standard Fair – Northern City (Jun Akimoto & Ittetsu Remix)
Angel Mora
I play sure,thanks!
Standard Fair – Northern City (Jun Akimoto & Ittetsu Remix)
Arado
DOWNLOADED …..THX
Standard Fair – Northern City (Jun Akimoto & Ittetsu Remix)
Audiojack
Downloading for Audiojack who will feedback if they like the track
Standard Fair – Northern City (Jun Akimoto & Ittetsu Remix)
Brothers Vibe
ALL good here…
Standard Fair – Winter Flavor (Original Mix)
Daniel Sanchez
I like standard fair, cool ep!
Standard Fair – Winter Flavor (Original Mix)
DE-BUG
review to follow
Standard Fair – Northern City (Original Mix)
dj forum magazine
cool sound!
Standard Fair – In Front Of Wall (Original Mix)
DZeta N' Basile
Solid release here, support from us for sure!
Standard Fair – Winter Flavor (Original Mix)
Echonomist
late night groovers!
Standard Fair – Northern City (Original Mix)
Fabrizio Maurizi
Northern city is soooo nice;_))
Standard Fair – Northern City (Original Mix)
Feygin
some quality techno
Standard Fair – Winter Flavor (Original Mix)
Francesco Bonora
Dope release, one of my fav this month! congrats
Standard Fair – Winter Flavor (Original Mix)
Guido Nemola
killer tracks
Standard Fair – Northern City (Jun Akimoto & Ittetsu Remix)
Hermanez
nice release, winter ans wall are cool
Standard Fair – Winter Flavor (Original Mix)
Hugo
Jun Akimoto & Ittetsu Remix for me..tnx
Standard Fair – Northern City (Jun Akimoto & Ittetsu Remix)
Italia Network
Great Sound…full support!
Standard Fair – Winter Flavor (Original Mix)
Jacuzzi Boys
jun akimoto & ittetsu rmx for us. thx
Standard Fair – Northern City (Jun Akimoto & Ittetsu Remix)
John Dimas
Nice ep , Jun & ittetsu rmx is the one for me ,
Standard Fair – Northern City (Jun Akimoto & Ittetsu Remix)
Jorge Savoretti
Cool tracks! I like the hypnotic sound of Standard Fair


Standard Fair – Winter Flavor (Original Mix)
Kiko Martinez
Geat deeper tracks, full support
Standard Fair – Northern City (Original Mix)
Lars Wickinger
Winter Flavor is OK!
Standard Fair – Winter Flavor (Original Mix)
Limo
thanks
Standard Fair – Winter Flavor (Original Mix)
Lonya
Winter Flavor for me , but feelin all the tracks here , thx
Standard Fair – Winter Flavor (Original Mix)
Luciano
Downloaded! I will listen to it .. Thanks for the music . L
Standard Fair – Northern City (Original Mix)
Manu-L
Norther City – Original and Remix are the one i prefer !!!
Standard Fair – Northern City (Jun Akimoto & Ittetsu Remix)
Marco Carola
nice track
Standard Fair – Northern City (Jun Akimoto & Ittetsu Remix)
Mark Graham
wicked love – Standard Fair – Northern City (Jun Akimoto & Ittetsu Remix) – support
Standard Fair – Northern City (Jun Akimoto & Ittetsu Remix)
Michele Vitucci
A beautiful and exciting release! A perfect sound that brings harmony in the soul. Standard Fair is a genius of deep-house!
Standard Fair – In Front Of Wall (Original Mix)
Mihai Popoviciu
very nice tracks, support!
Standard Fair – Winter Flavor (Original Mix)
Mirco Violi
quality stuff
Standard Fair – In Front Of Wall (Original Mix)
Moodymanc
northern city nice for me thanks
Standard Fair – Northern City (Original Mix)
Mulder
Yes! Like Northern City and the Jun Akimoto & Ittesu Remix!!
Standard Fair – Northern City (Jun Akimoto & Ittetsu Remix)
Paco Osuna
downloaded thank you


Standard Fair – In Front Of Wall (Original Mix)
Resident Advisor
Thanks! Downloading.
Standard Fair – Winter Flavor (Original Mix)
Reboot
Thanks! Kind Regards
Standard Fair – Northern City (Jun Akimoto & Ittetsu Remix)
Resident Advisor
Thanks! Downloading.
Standard Fair – Winter Flavor (Original Mix)
Richie Hawtin
download for r hawtin
Standard Fair – Winter Flavor (Original Mix)
Salvatore Freda
like them, but the remix has that something special that make it my favourite here


Standard Fair – Northern City (Jun Akimoto & Ittetsu Remix)
Sis
Northern City is cool, thanks !
Standard Fair – Northern City (Original Mix)
Slam
will road test thanx
Standard Fair – Winter Flavor (Original Mix)
Someone Else
nice ep!
Standard Fair – In Front Of Wall (Original Mix)
Steve Lawler
downloading
Standard Fair – Winter Flavor (Original Mix)
Tripmastaz
Winter is kind aight
Standard Fair – Winter Flavor (Original Mix)
Tsugi Magazine
nice tracks
Standard Fair – Winter Flavor (Original Mix)
Uglh
Nice release. Thanks
Standard Fair – Northern City (Jun Akimoto & Ittetsu Remix)
Yaya
Great track!I really like to open my sets with this track! Full support.
Standard Fair – Northern City (Jun Akimoto & Ittetsu Remix)