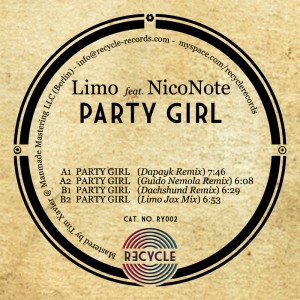 Artist : Limo,NicoNote
Album : Party Girl  12″
Label : Recycle Limited
cat #: RY002
release date: 24/06/2011
Distribution Eletronix Network
A1: Limo feat NicoNote – Party Girl (Dapayk Remix)
A2 : Limo feat NicoNote – Party Girl (Guido Nemola Remix)
B1 : Limo feat NicoNote – Party Girl (Dachshund Remix)
B2 : Limo feat NicoNote – Party Girl (Limo Jax Mix)
Party girl grows from a a collaboration between 2 artists coming from different fields in music.
NicoNote brought her Voice and  Indie-Soul Stylings to Limo's Club Production Sound.
The release is completed with hot remixes by Dapayk, Guido Nemola and Dachshund.
This simply but very Cute and intense Spleen made Party girl be here!  Enjoy !
Listen On Beatport: http://www.beatport.com/release/party-girl/845221
Feedbacks :
RICHIE HAWTIN: download Guido Nemola Remix for r hawtin
DANI CASARANO: Daschund mix
JUN AKIMOTO: cool release! ful support!
TRIPMASTAZ: dwnld
MARCO FARAONE: Nice Ep..Good originals and remixes… Support from me M
MOTOR CITY SOUL: Dachhund remix sounds like a perfect tech tool, looking forward to trying this one out!
KIKO MARTINEZ: very good music… nice vibes!
MANU L: Great release i like allmost all the version but i think the guido nemola bassline make the difference!!! Play it for sure
TIMO MAAS: downloading for timo maas…
HUGO: good stuff..Dachshund rmx for me
UGLH: Cool rmxs. Dapayk and Dachshund are great. Thanks
TSUGI MAGAZINE: nice remixes
ADRIANO FILIPPUCCI: Guido rmx is for me–thank u
ALLAND BYALLO: Dachshund and Nemola remixes are super, especially the former.
DANIEL SANCHEZ: damn fine ep here!, i like the dapayk and the dachshund remixes a lot!
FEYGIN: great remix from Limo Jax .. vocal is lovely..
RESIDENT ADVISOR: thanks
ECHONOMIST: Guid Nemola and Dachshund are surely my favorites!!!
DZETA N' BASILE: Nice journey in the Guido Nemola mix! Support from us!
AUDIOJACK: Downloading for Audiojack
LUCIANO ESSE: Dachsund rmx is the bomb!
YAYA: Nemola remix is cool! my favourite. Thanks.
FLORIAN KRUSE: pure groove by Dapayk! digging it!
LUKAS GREENBERG (PLASTIC CITY RADIO SHOW): support!!
CHRIS LATTNER: Dachshund remix kicks me…
SEBASTIAN LUTZ: Dachshund is top…great package..thx
PACO OSUNA: Dachshund rmx for me 🙂
BUTCH: Dacshund remix is dope
JORGE SAVORETTI: Guido and Dachshund remixes are great! nice deep gems
HERMANEZ: will check it out ! thanks !
MIRCO VIOLI: Dachshund remix is great !!!
MIHAI POPOVICIU: dachsund remix for me, nice one!
MARK GRAHAM: Amazing release guys!! the vocal is unreal!!! LOVE it.. Favs are Guido Nemola Remix for early doors and the dachshund mix for later on 🙂 thanks for the promo
LARS WICKINGER: fine!
FRANCESCO BONORA: Guido Remix and Limo Jax Mix are superwonderful, this is cool cool music with a great vocal! congrats guys, will chart
SOMEONE ELSE: Dapayk mix is nice.
SLAM: cool trax – playing thanx
COSMIC COWBOYS: Limo Jax Mix for us!!
CARLO LIO: Limo mix is cool
SANTORINI: Full support 🙂
LUCIANO: Thanks for the music, I appreciate but will take time to listen to it and send you a feedback asap. L
JAFFA SURFA: Dachsund remix for me! will try out… thanks
SALVATORE FREDA : me gusta la Dachsund rmx mucho ! gracias… will play 😉
ANDRE BUTANO : Support
Radio Shows :